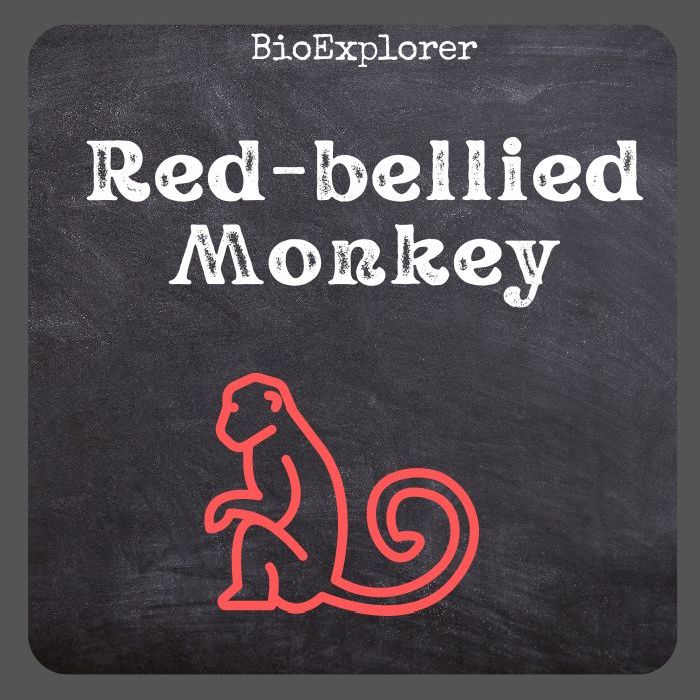 | | | | | |
| --- | --- | --- | --- | --- |
| Animalia | Primates | Cercopithecidae | Cercopithecus | Cercopithecus erythrogaster |

Common Name: Red-bellied Monkey
Taxonomy Classification Year: 1866
Monkey Size: 46 to 46 cm (18 to 18 inches)
Skin Color(s): Dense gray
Habitat: Forest, rainforest
Diet: Omnivorous
Native Countries: Nigeria, Benin

Red-bellied Monkey Distribution

Red-Bellied Monkey Characteristics
The red-bellied monkey[1] (Cercopithecus erythrogaster), also called the red-bellied guenon or white-throated guenon is a diurnal primate living in the trees of Tropical Rainforests or tropical areas in Benin and Nigeria.
Pretty and slender, red-bellied monkeys' dense gray fur is highlighted by a rust-red patch of fur on their underbelly, making them easy to identify.
The thick white hair around its neck is reminiscent of the ruffled lace collars of Renaissance nobles, hence their common names, red-bellied or white-throated monkeys.
The top of their head appears pointed, as do their ears. Their narrow mouth sticks out. Like all guenons, they have cheek pouches in which they store food while feeding.
Their flat nose has hanging nostrils. Their light brown eyes are round. Their hands and feet have five fingers with opposing thumbs and toes.

Red-Bellied Monkey Facts
The red-bellied monkey was once considered extinct due to constant hunting for fur on its unique red belly and white front legs. However, a small group was found near the Niger River in 1988.
These monkeys are diurnal. They live in small groups in the lower treetops and, being quite shy, are not easy to spot in the wild.
They move by walking, running on their hands and feet, or jumping.
Members of one group maintain close relationships but avoid interacting with members of other groups.
Red-bellied monkeys use postures to express their feelings. Gazing open-mouthed and nodding, for example, are used to warn intruders.

Cite This Page