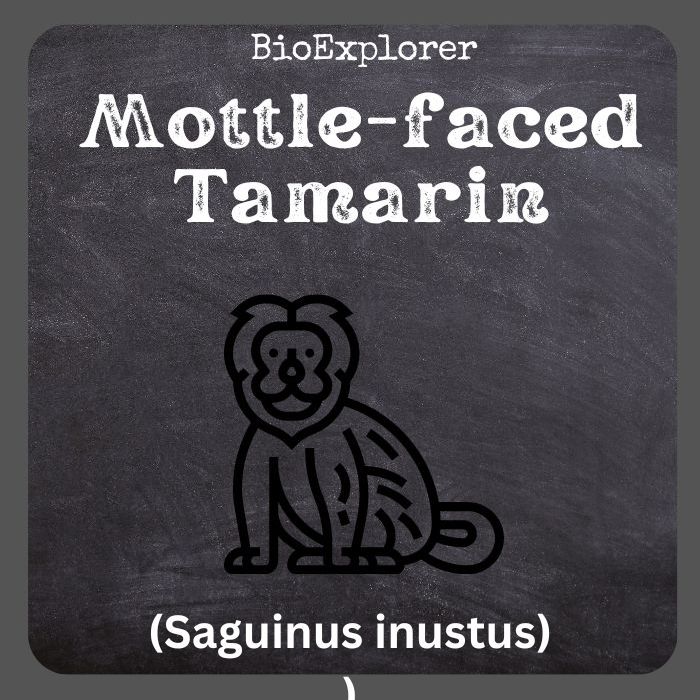 | | | | | |
| --- | --- | --- | --- | --- |
| Animalia | Primates | Callitrichidae | Saguinus | Saguinus inustus |

Common Name: Mottle-face tamarin
Taxonomy Classification Year: 1951
Monkey Size: 20 to 20 cm (7.87 to 7.87 inches)
Skin Color(s): Black
Habitat: Forest, rainforest
Diet: Omnivorous
Native Countries: Brazil, Colombia

Mottle-face tamarin Distribution

Mottle-faced Tamarin Characteristics
The Mottle-faced tamarin[1] (Saguinus inustus) is endemic to South America.
Known for their spotted face, these monkeys are closely related to common marmosets.
They have characteristics similar to other common marmosets as they belong to the same family, Callitrichidae, and the genus Saguinus.
The toes of Mottle-Faced tamarins have claws in addition to the large digits with nails. They are believed to be around 20 cm long and weigh 350 grams.
Their faces appear bare, their backs are dark brown, and the overall color is black.
Each side of the jaw has two molars.

Mottle-Faced Tamarin Facts
The Mottle-Faced tamarin monkey gets its name from its mottled face, which means their faces have spots.
They are social animals that live in a group of 3-15 members with a breeding female and one unrelated male.
Only the female mottle-faced tamarin monkey is allowed to breed, and the others are treated as helpers.
These tamarins are considered monogamous, polygamous, or polyandrous. In this case, females can have many mating partners, although some studies have reported cases of monogamy.
Mottle-faced tamarins are not hunted by locals due to their "small size" and some are even kept as pets.

Cite This Page