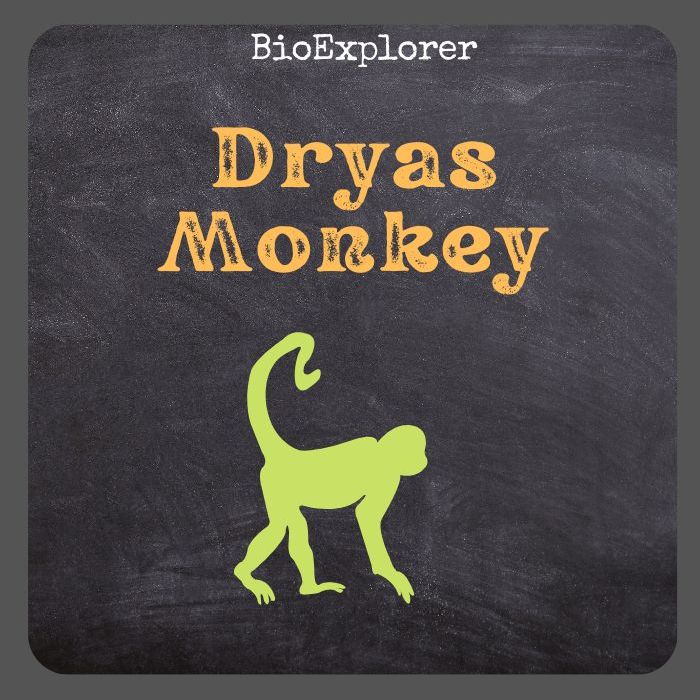 [shemedia_ad type="medrec"]

Dryas monkey Distribution

Dryas Monkey Characteristics
The Dryas monkey[1], also called the Salonga monkey, Inoko, or Ekele is a little-known Old World primate only found in the Congo Basin and restricted to the Congo River's left bank.
An adult male Chlorocebus dryas is distinguished by its black snout, short white facial beard, and white whiskers.
The dorsal surface of the body is grayish-brown with a coronal crown. This species also has white on the ventral body, tail, lower limbs, and buttocks.
The upper extremities are similar in color to the rest of its body, blackish brown/dark grey.
A mature male's rump dazzles like fireworks on the 4th of July. A large patch of bare skin shines aquamarine under the tail and extends to the testicles.
Above, a small patch of cherry-red skin highlights the anus. This colorful display is surrounded by a ring of bright white coats contrasting nicely with the species' black limbs.
Not all males have bright blue testicles and backside. It can be age-related, hormonal, or a sign of health or status within the group.

Dryas Monkey Facts
Unlike guenon monkeys, which make loud leaps and resounding calls, dryas monkeys move silently. Instead, they murmur, whisper, chirp, and chuckle.
These monkeys are adept at avoiding human attention but don't be fooled into thinking they have a drab fashion sense.
They eat a lot of herbaceous material, which is uncommon for a small monkey. For example, Dryas monkeys eat terrestrial mushrooms, insects, and the green inner bark of vines. Still, their favorite food seems to be young leaves, a notoriously difficult food to digest.
In January 2019, the IUCN downgraded the conservation status of the Dryas monkey from critically endangered to endangered.

Cite This Page