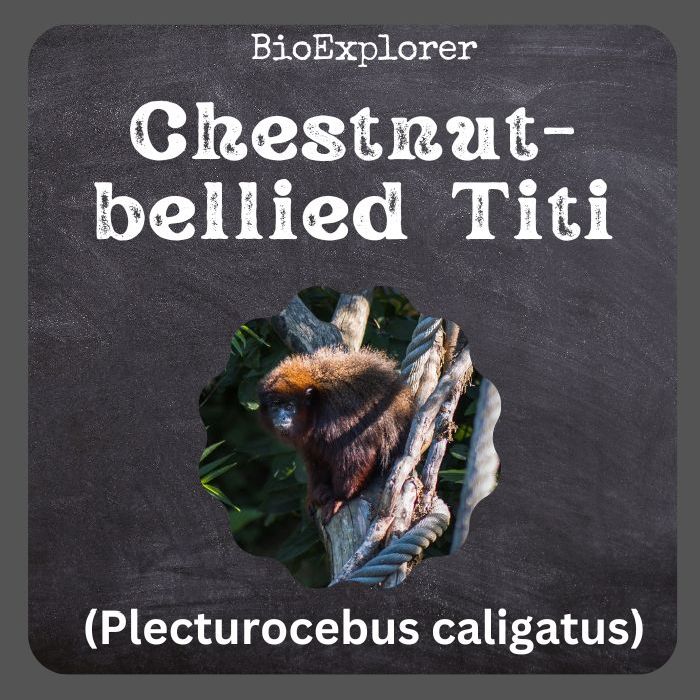 | | | | | |
| --- | --- | --- | --- | --- |
| Animalia | Primates | Pitheciidae | Plecturocebus | Plecturocebus caligatus |

Common Name: Chestnut-bellied Titi
Taxonomy Classification Year: 1842
Monkey Size: 29 cm to 45 cm (11.4 to 17.7 inches)
Skin Color(s): Red
Habitat: Forest, rainforest
Diet: Omnivorous
Native Countries: Brazil

Chestnut-bellied Titi Distribution

Chestnut-Bellied Titi Characteristics
The chestnut-bellied titi monkey[1] is a New World primate species native to Brazil.
Initially, it was described as Callicebus caligatus in 1842. Typically, chestnut-bellied Titi monkeys lack a prehensile tail, and monkeys' tails are distally polished, which is gray in color.
These New-World Monkeys have black foreheads and dark red to black forearms.
The belly, sideburns, and insides of the limbs of these monkeys are red, and the outer parts and back are dark-colored.
Chestnut-bellied titi monkeys have soft elongated fur that appears black, brown, or red with a lighter underside.

Chestnut-Bellied Titi Facts
The Chestnut-bellied Titi monkeys live in family groups consisting of father, mother, and baby monkeys ranging in size from three to seven with other affiliates.
They protect their territory by shouting and chasing male and female intruders.
The species have a tail-locking behavior that strengthens the relationship between female and male monkeys.
Chestnut-bellied Titi Monkeys have the shortest lifespans among the varieties in their family, ranging from 2 to 3.5 years.
Adult male species are more prominent than females, with body masses ranging from 800 to 1, 200 grams (1.7 to 2.6 pounds), while females range in body mass from 700 to 1020 grams (1.5 to 2.2 pounds).

Cite This Page