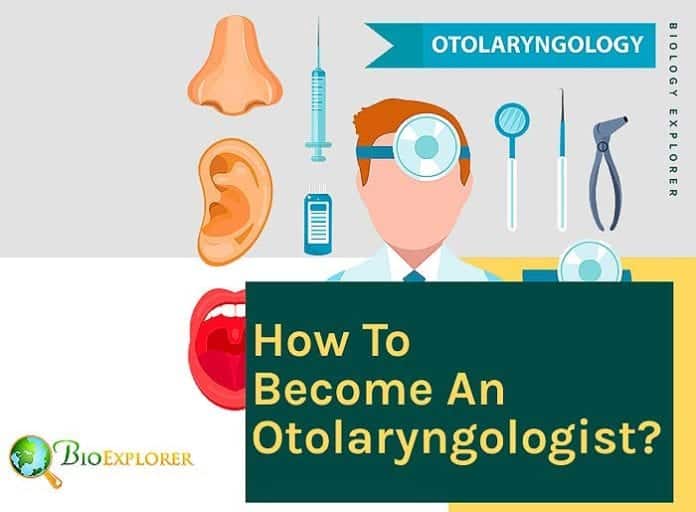 Otolaryngologists are doctors who specialize in the treatment and management of diseases and disorders of the ear, nose, throat, and related bodily structures. Explore the steps on how to become an Otolaryngologist and required educational qualifications on this page.
They are commonly known as ENT specialists. They render both medical and surgical care to patients concerning ear, nose, and throat issues.
According to the American Academy of Otolaryngology (AAO), Otolaryngology is the oldest medical specialty in the United States dating back to the 19th century.
How to become an Otolaryngologist?
To become an otolaryngologist, one needs to:
Graduate from high school with a high GPA, especially in life sciences and math;
Complete a 4-year pre-med/Biology degree;
Volunteer in a medicine-related facility;
Pass the Medical college admission test (MCAT);
Enter a licensed medical school;
Complete the 4 years of required initial medical training and obtain the Doctor of Medicine degree (M.D.);
Pass the three stages of the United States Medical Licensing Exam (USMLE);
Complete the first year of residency that involves general rotation and basic surgery training;
Complete 5 years of specialized otolaryngology residency;
Get certified by the American Board of Otolaryngology;
Join a 1-2-year fellowship in any of the following subspecialties:

Average Salary for Otolaryngologists
The average salary for an otolaryngologist in the United States is between $314,565 and $431,334.

Cite This Page
Key References
"American Board of Otolaryngology – Head and Neck Surgery". Accessed December 11, 2019. Link.
"Physician – Otolaryngology Salary | Salary.com". Accessed December 11, 2019. Link.