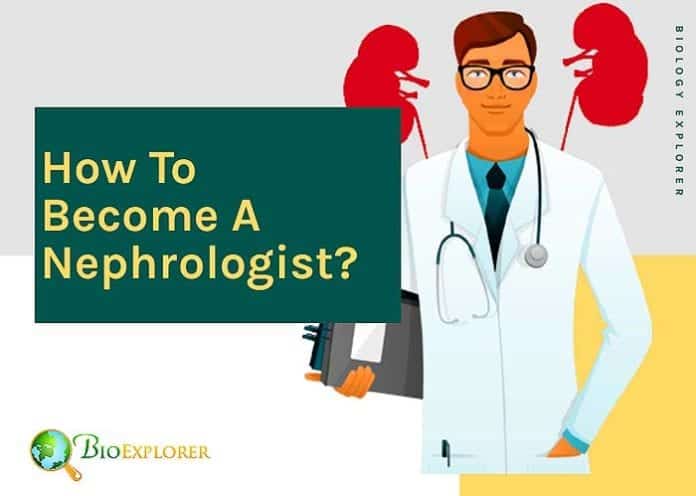 A nephrologist is a medical specialist that specializes in kidney diseases. Nephrology is one of the branches of internal medicine. The pediatric nephrologist diagnoses and treats kidney-related disorders for kids.
How to become a Nephrologist?
In order to qualify as a nephrologist, one needs to:
Graduate from high school with a high GPA, especially in life sciences and math;
Complete a 4-year pre-med/Biology degree;
Volunteer in a medicine-related facility;
Pass the Medical college admission test (MCAT);
Enter a licensed medical school;
Complete the 4 years of required initial medical training at the medical school, including internship;
Pass the three stages of the United States Medical Licensing Exam (USMLE);
Take a 3-year residency in internal medicine;
Get a certification from the American Board of Internal Medicine (ABIM);
Join a 2-3-year nephrology fellowship. The latter may include:

1-2 clinical component;
1-year research component;
Concentrated training in kidney structure, disease, and disorders.

The fellowship must be accredited by the Accreditation Council for Graduate Medical Education (ACGME);
Get board certification;
One can choose between the following career tracks:

Clinical nephrology – 2 years;
Research nephrology – around 4 years;
Transplant nephrology – 2 years of general nephrology and 1 year of transplant nephrology;
Pediatric nephrology – 3 years;

How much do Nephrologists make?
In the United States, the average salary for a nephrologist is between $221,832 and $300,000 per annum.

Cite This Page
Key References
"How to Successfully Train a Modern Nephrologist: Experience from US Fellowship Training Practice – FullText – Kidney Diseases 2019, Vol. 5, No. 4 – Karger Publishers". Accessed December 02, 2019. Link.
"Average Nephrologist Salaries in the United States | Indeed.com". Accessed December 02, 2019. Link.