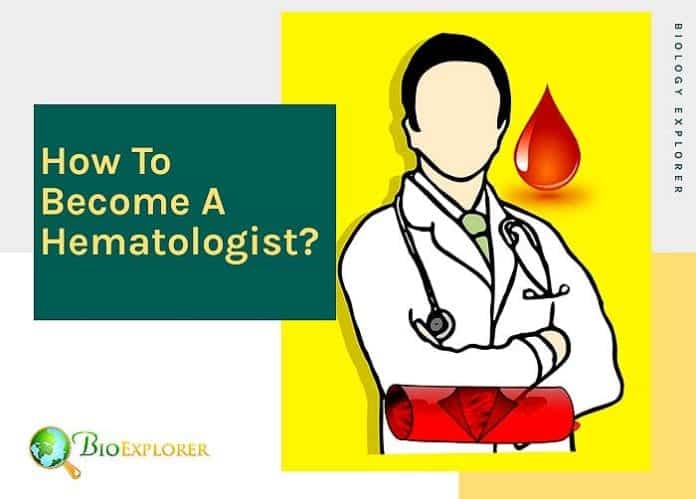 How To Become A Hematologist? A hematologist is a medical specialist that deals with blood disorders, from anemia to blood cancers.
How to become a Hematologist?
In order to become a hematologist, one needs to:
Complete a Bachelor's degree with an emphasis on physical sciences, biology and laboratory practice;
Maintain a high GPA;
Pass the Medical College Admission Test (MCAT);
Complete the 4-year training at the licensed medical school in order to ear the M.D. Degree;
Pass the final stage of United States Medical Licensing Exam (USMLE);
Complete a hematology residency that lasts for 3-5 years. The residency for future hematologists may include:

Pediatrics;
Pathology;
Oncology (as hematology may involve blood cancers);

Join a hematology or oncology fellowship (usually 1-2 years). During the fellowship, the students may study:

Pediatric hematology;
Coagulation;
Adult hematology
Hematology/oncology (both adult and pediatric);

If one wants to choose a research track, one may need to pursue a Ph.D. Completing grad school that can last from 3 to 5 years, depending on the type of study.
It is possible to work as a researcher, oncologist, and hematologist at a hospital;
Hematologists also need a strong background in laboratory work;
Hematologists need to be certified by the American Board of Internal medicine.

Average Salary Range for Hematologists
Salaries for hematologists range from $169,058 to $272,985 per year.

Cite This Page
Key References
"How to Become a Hematologist". Accessed November 27, 2019. Link.
"The American Society of Hematology". Accessed November 27, 2019. Link.
"American Hemochromatosis Society". Accessed November 27, 2019. Link.