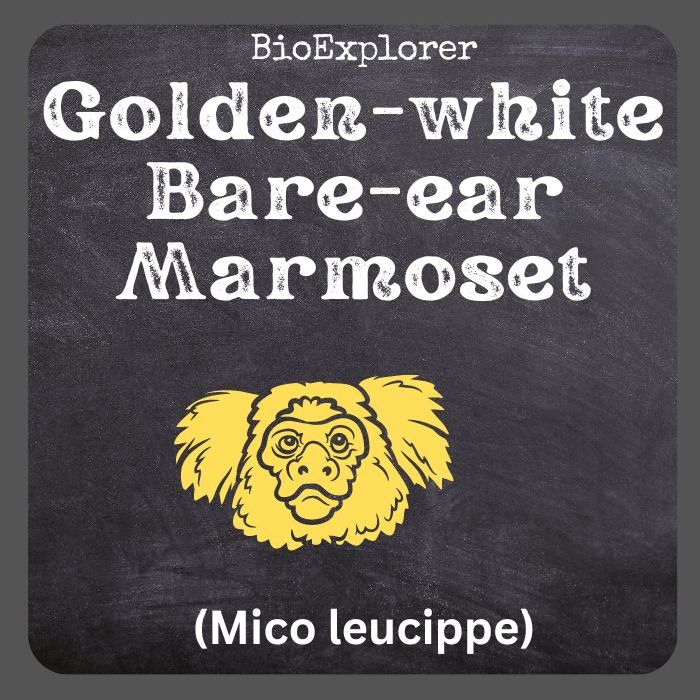 [shemedia_ad type="medrec"]
| | | | | |
| --- | --- | --- | --- | --- |
| Animalia | Primates | Callitrichidae | Mico | Mico leucippe |

Common Name: Golden-white Bare-ear Marmoset
Taxonomy Classification Year: 1922
Monkey Size: 20.32 to 23 cm (8 to 9 in)
Skin Color(s): Golden-white
Habitat: Forest, rainforest
Diet: Omnivorous
Native Countries: Brazil

Golden-white Bare-ear Marmoset Distribution

White Marmoset Characteristics
The white marmoset[1] (Mico leucippe), also called the golden-white bare-eared marmoset, is an endangered marmoset native to the Amazon rainforest of Pará, Brazil.
The white marmoset has dense golden-white fur covering its body and signature tufts of white hair near its ears.
White marmoset monkeys have hairless faces and ears and are sometimes called bare-eared marmosets.
While other New World Monkeys have nails on all their toes, marmosets have claws on all toes except the big toe.
The head and body length of these species is around 14 cm (6 in), and the tail is a bit longer.
Adult white marmosets only weigh around 90 grams (3 ounces), while other species in the family reach 600 grams (1.3 pounds) or more.

White Marmoset Facts
They are diurnal primates and prefer to live in small groups of about 4 to 15 individuals.
Groups are usually territorial and comprise clear hierarchies, with only one dominant breeding pair at the top.
Marmosets can be aggressive to defend their territory or assert their dominance against other groups. This aggression usually takes the form of violent biting, vocalizations, and threatening displays.
They have specially adapted teeth that allow them to gnaw and remove tree bark to access plant exudates (such as resins, latex, and sap).
White marmosets can live to a maximum of about sixteen and a half years. This is why they are considered among the shortest-lived primate species.

Cite This Page