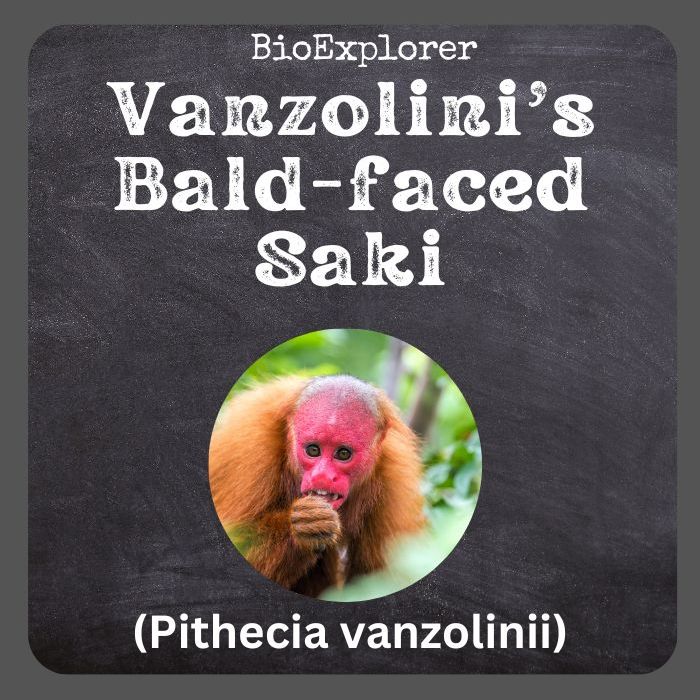 | | | | | |
| --- | --- | --- | --- | --- |
| Animalia | Primates | Pitheciidae | Pithecia | Pithecia vanzolinii |

Vanzolini's Bald-faced Saki Distribution

Vanzolini's Bald-faced Saki Characteristics
Vanzolini's bald-faced saki[1] (Pithecia vanzolinii) is a species of saki monkey, a species of New World Monkey.
Its distribution area is in western Brazil. With its smooth golden furry legs and Beatles-Esque bowl cut, you'll likely remember seeing Vanzolini's bald-faced saki monkey.
Vanzolini's bald-faced saki monkey was first cataloged by naturalist Alfonso Ollala in 1936. His account describes a monkey with a long, fluffy tail and golden fur on its limbs.
However, this fluffy tail isn't very good at swinging through the treetops. Unlike some New World monkey species, the Vanzolini bald-faced saki monkey does not have a prehensile tail.
Instead, Alfonso compared the monkey's movements to a cat moving through branches, deftly stepping on all four limbs, and jumping.

Vanzolini's Bald-Faced Saki Facts
This species was initially described by Hershkovitz as a subspecies Pithecia irrorata vanzolinii based on individuals collected by Alfonso M. Olalla in 1936 but was elevated to full species status in 2014.
The monkey is named after the Brazilian zoologist Paulo Vanzolini.
Vanzolini's bald-faced saki has a long limb that allows it to move through the jungle more like a cat than a monkey.
When confronted with predators, the male species would flee from the female species and young, apparently hoping the predators would chase them and leave the others alone.
These monkeys live in challenging habitats. Unfortunately, locals often hunt them for bushmeat while logging, ranching, and road development threaten their tree homes.

Cite This Page