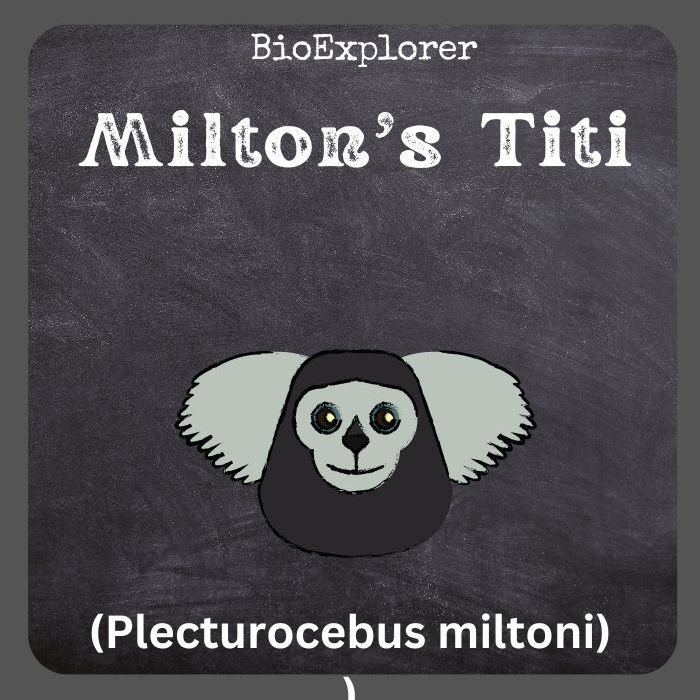 | | | | | |
| --- | --- | --- | --- | --- |
| Animalia | Primates | Pitheciidae | Plecturocebus | Plecturocebus miltoni |

Milton's Titi Distribution

Milton's Titi Characteristics
Milton's titi[1] (Plecturocebus miltoni), also called the fire-tailed titi monkey, is a species of titi, a type of New World Monkey from the Amazon rainforest of southern Brazil.
Milton's titi can be distinguished from other titi by the following characteristics: a light gray forehead line, dark ocher throat and sideburns, dark gray flanks and torso, and an orange tail.

Milton's Titi Facts
Milton's titi monkeys live in a small area of ​​lowland rainforest between the Aripuanã and Roosevelt rivers.
The species was named after a Brazilian primatologist, Milton Thiago de Mello.
Like their relatives, Milton's titis live in small family groups comprising a pair of monogamous adults and 2 or 3 of their young.
These fruit-eating monkeys spend much time grooming themselves, sometimes perching side by side on branches with lovingly entwined tails.
When startled, Milton's titis quickly disappear from sight and hide in dense sections of treetops.

Cite This Page