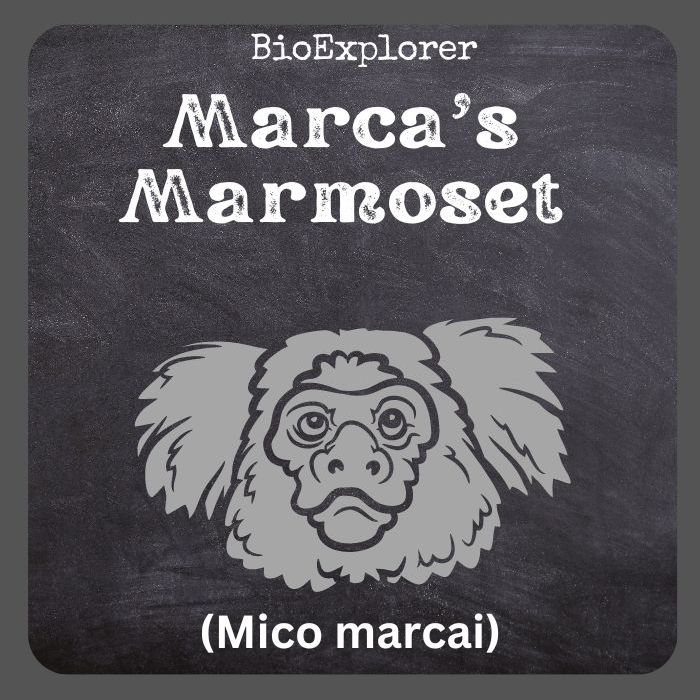 | | | | | |
| --- | --- | --- | --- | --- |
| Animalia | Primates | Callitrichidae | Mico | Mico marcai |

Common Name: Marca's Marmoset
Taxonomy Classification Year: 1993
Monkey Size: 23 to 23 cm (9 to 9 inches)
Skin Color(s): light gray
Habitat: Forest, rainforest
Diet: Herbivorous
Native Countries: Brazil

Marca's Marmoset Distribution

Marca Marmoset Characteristics
The Marca marmoset[1] (Mico marcai) is a native endemic to the Amazon in the Aripuanã-Manicoré interfluvium of Brazil.
Its body is light gray, with orange legs, a black tail, a pink face, and bare ears.
It is about 23 cm long, not including the tail, and has a tail 15 inches (38 cm) long.
It weighs about 12 ounces (340 g).

Marca Marmoset Facts
Marca marmosets are arboreal and diurnal. They prefer to spend most of their time high up in the trees of the upper canopy of the rainforest.
They live in groups of 4 to 15 individuals. These groups are led by a dominant male and female.
The dominance hierarchy is determined by age rather than gender, strength, or family relationships.
Marca marmosets that submit to a dominant individual show this by baring their teeth and laying their ears flat.
Marca marmosets make regular chirps to stay in contact with their group while feeding.

Cite This Page