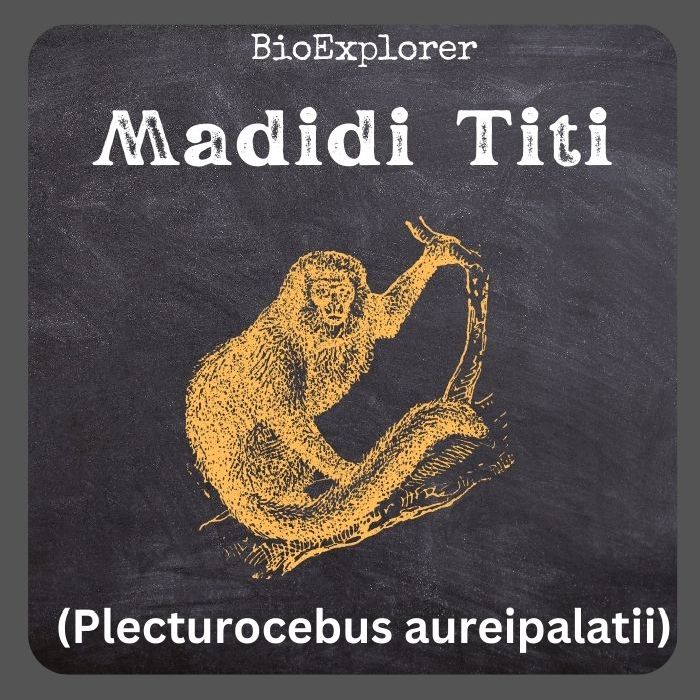 | | | | | |
| --- | --- | --- | --- | --- |
| Animalia | Primates | Pitheciidae | Plecturocebus | Plecturocebus aureipalatii |

Common Name: Madidi Titi
Taxonomy Classification Year: 2006
Monkey Size: 80 to 81.7 cm (31.5 to 32.17 in)
Skin Color(s): Orange-brown
Habitat: Forest
Diet: Herbivorous
Native Countries: Bolivia

Madidi Titi Distribution

Madidi Titi Characteristics
The Madidi titi[1] also called the Golden Palace monkey, is a titi, a New World species of monkey discovered in 2004 in Madidi National Park in western Bolivia.
Golden Palace Titi monkeys, like all titi monkeys, are relatively small, thickly-furred primates.
The fur on the back is orange-brown, while the belly, forearms, legs, and paws are orange.
The tail is long and bushy; it cannot be used as a prehensile tail like all Titi monkeys.
It is usually dark in color but has a white tip. The head is small and rounded with a distinctive golden crown. The hair on the cheeks and neck is orange.

Madidi Titi Facts
The species got its name, Golden Palace, from an online casino after an auction.
Like all other common titis, they live in monogamous family groups consisting of common parents and offspring, in which pairs often stay together for life.
Like all common titis, these primates are arboreal and diurnal.
A pair maintains territory over rival pairs primarily through territorial calls.
The male usually carries the babies until they can survive independently.

Cite This Page