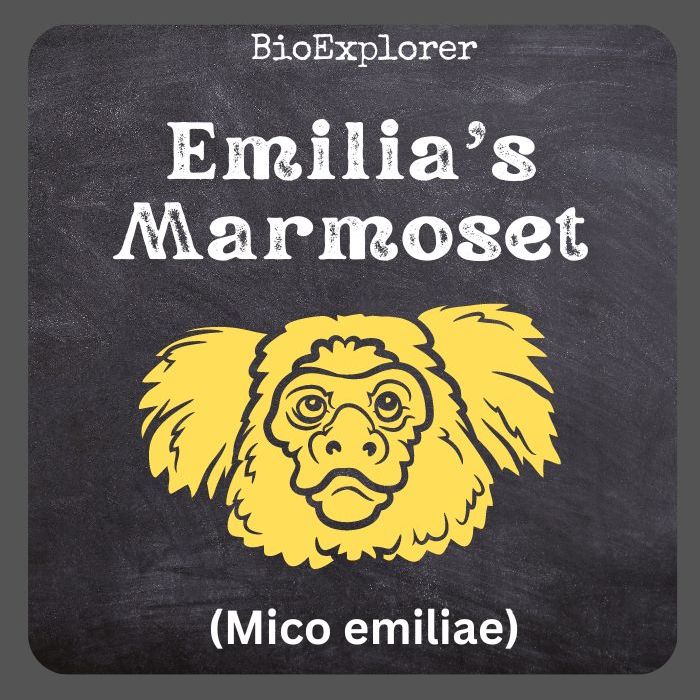 | | | | | |
| --- | --- | --- | --- | --- |
| Animalia | Primates | Callitrichidae | Mico | Mico emiliae |

Common Name: Emilia's Marmoset
Taxonomy Classification Year: 1920
Monkey Size: 21.6 to 21.6 cm (8.5 to 8.5 inches)
Skin Color(s): Gray
Habitat: Rainforest
Diet: Omnivorous
Native Countries: Brazil

Emilia's Marmoset Distribution

Emilia's Marmoset Characteristics
The Emilian marmoset[1], also called the Snethlage's marmoset, is a marmoset native to Brazil.
It is only found in the Brazilian states of Mato Grosso and Pará. Emilia's marmoset is a mostly white-haired primate with a gray back. Often, their posture gives the impression of a hunchback.
Their pink faces and snouts are covered in light-colored hair, and they have large brown eyes. Their pointy ears are incredibly recognizable, as they sometimes stick out of their fur.
These marmosets are small monkeys adapted to climbing logs and climbing thin branches. Marmosets have claws on all fingers and toes except for the big toes.
These claws are mainly used for climbing. Marmosets have much longer tails than the rest of their bodies.
Although these tails are not prehensile, they can be used for balance when crossing trees.

Emilia's Marmoset Facts
The species is named after Emilie Snethlage, a German-born Brazilian ornithologist.
Marmosets are arboreal and diurnal. They prefer to spend most of their time high in the rainforest's upper canopy.
All "true" marmosets are characterized by solid and thick incisors in their lower jaws that allow the monkeys to punch holes in tree bark and eat the tree sap within.
The dominance hierarchy is determined by age rather than gender, strength, or family relationships.
Common Emilian marmoset facial expressions include open-mouth staring, indicating the monkey wants to play.

Cite This Page