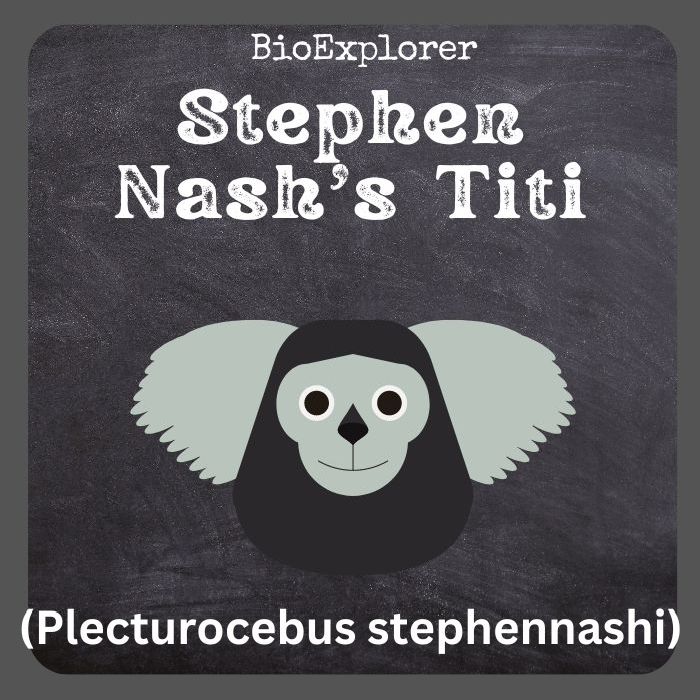 | | | | | |
| --- | --- | --- | --- | --- |
| Animalia | Primates | Pitheciidae | Plecturocebus | Plecturocebus stephennashi |

Stephen Nash's Titi Distribution

Stephen Nash's Titi Characteristics
Stephen Nash's Titi[1] (Plecturocebus stephennashi), also known as Stephen Nash's monkey or Nash's Titi, is a species of Titi in the family Pitheciidae.
It is native to Brazil's east bank of the Purus River. The adult Stephen Nash's Titi can reach a maximum length of 71 cm.
They have an elongated tail 17 inches (43 in) long, making up more than 60 percent of their body length.
Stephen Nash's species of Titi monkeys are also frivolous animals, ranging in body weight from 700 grams to 1, 650 grams (1.5 to 3.6 pounds).
It has a silver body, a black forehead, red sideburns, and a chest.
Stephen Nash's titi monkey is an animal without a prehensile tail, and the undersides of this species of monkey's limbs are also red.

Stephen Nash's Titi Facts
This Brazilian monkey was discovered by Marc van Roosmalen in 2001 when local fishermen brought specimens to his breeding center. It was officially described in 2002.
It was named after Stephen D. Nash, an illustrator at Conservation International, the organization that funded van Roosmalen's work.
Stephen Nash's Titi monkey lived in groups of adult male and female monkeys, with a maximum of three juvenile monkeys.
Male and female Stephen Nash's Titi monkeys form a strong relationship characterized by a close spatial relationship, pair-specific behaviors, and shared pair magnetism.
Male Stephen Nash's Titi monkeys of this species carry their babies the day after birth and provide most of the parental care for the babies, except for breastfeeding.

Cite This Page