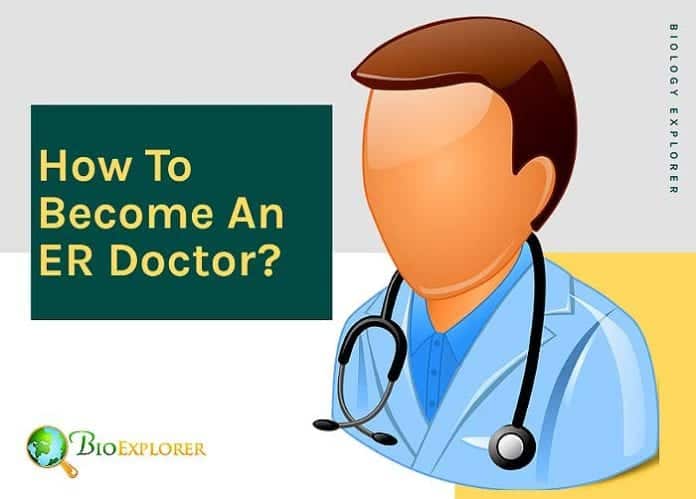 How To Become An ER Doctor? Emergency room doctors are specialists that are trained to treat both injuries and illnesses of patients that are brought to the emergency room.
These doctors have to be very flexible and knowledgeable, as they get a wide variety of patients with conditions of varying severity.
How To Become An ER Doctor?
The minimal requirement for an aspiring ER doctor is a valid medical degree. To achieve this, a student need to:
Complete a bachelor's degree that includes pre-requisites for medical school. It is often an undergraduate biology program that includes most of the necessary courses;
It is recommended to volunteer at the hospital or a clinic during the undergraduate study in order to gain the patient care experience;
Pass the MCAT (preferably with a high score). The MCAT usually includes:

Questions in physical sciences;
Questions in biological sciences;
Verbal reasoning and writing;

Join a medical school accredited in the USA.
Complete clinical rotations in the last 2 years of study, gaining experience in various clinical fields;
Take the United States Medical Licensing Examination (USMLE) in order to get the medical license;
After graduation and obtaining a license, it is necessary to do one of the following:
Complete a residency that satisfies the requirements of the Board of Certification in Emergency Medicine;
Complete a primary care residency as well as a 1-2-year fellowship in Emergency Medicine;
Complete a primary care residency and practice emergency medicine full-time for at least 5 years;
Based on the experienced described above, obtain certification from one of the following boards:
The American Osteopathic Board of Emergency Medicine (AOBEM);
American Board of Medical Specialties (ABMS).
Join a fellowship in a sub-specialty of emergency medicine, for instance;
Pediatric emergency medicine;
Pain management;
Disaster medicine;
Sports medicine;
Wilderness emergency medicine.
In order to keep up to date in the field, emergency doctors also have to participate in continuing education and pass additional exams.
There are also additional programs to complete according to the requirements of the American Board of the Physician specialties:
Advanced Cardiac Life Support (ACLS) program – Provider level;
Advanced Trauma Life Support (ATLS) program – provider level;
Pediatric Advanced Life Support (PALS) program – Provider level;
It also should be noted that emergency doctors need to be exceptionally stress-resilient, be prepared for long hours, and be experienced in dealing with patients quickly, but politely and professionally. It is one of the toughest medical specializations.

Average Salary Range for ER Doctors in the USA
The average salary range for an emergency medicine specialist in United States is from $205,114 to $320,419 per year, according to different sources.

Cite This Page
Key References
"How to Become an ER Doctor". Accessed November 16, 2019. Link.
"Emergency Medicine Eligibility". Accessed November 16, 2019. Link.
"Physician – Emergency Room Salary | Salary.com". Accessed November 16, 2019. Link.