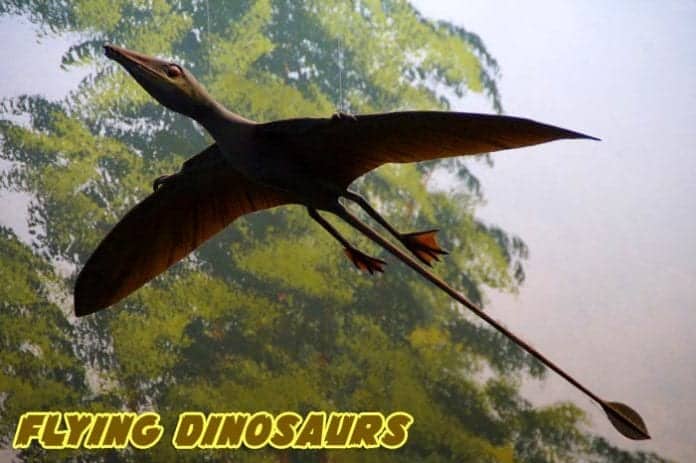 Flying Dinosaurs: Despite being extinct at the present-day time, dinosaurs are still considered as one of the most astonishing creatures that ever existed on Earth.
With those sharp teeth and variable sizes (ranged from the smallest to the most humongous bodies), dinosaurs were sure to have ruled over the land and even deep waters during prehistoric times.
How about the skies, you say? Were there flying dinosaurs? Did they actually exist?
Sorry to disappoint you but there were actually no flying dinosaurs.
Despite the rampant portrayal in the media and other electronic sources, technically speaking, there have been no scientific records of pre-avian dinosaurs that were capable of flying. Instead, during that time, non-avian reptiles that could fly were already cohabiting with terrestrial and marine dinosaurs.


Examples Of Pterosaurs
The size of the members of the Order Pterosauria ranges from the size of a raven up to the size of an airplane. The word origin for these pterosaurs was mostly from Greek. Some examples of pterosaurs are the following:








To learn more about pterosaurs, you can visit this site.
The Bird-Like Dinosaurs (Flying Dinosaurs)
The word dinosaur means "terrible lizard," and this is somewhat contradictory since dinosaurs are not lizards but a separate group of extinct reptiles.
On the other hand, birds are viewed to have directly descended from dinosaurs (specifically from the theropod group during the Mesozoic Era. Roughly speaking, modern birds can even be referred to as "feathered dinosaurs" themselves. About what was alluded to earlier, birds may have descended from dinosaurs, but scientists believed that pre-avian dinosaurs couldn't fly.


With such significant evidence of the distinct evolutionary relationships of dinosaurs with birds, there is absolutely no more reason to keep the confusion. What do you think?
Cite This Page