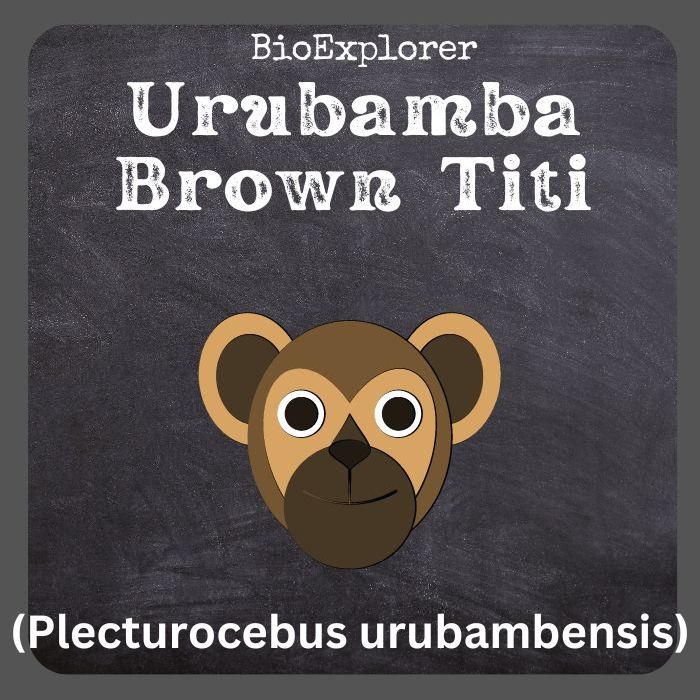 | | | | | |
| --- | --- | --- | --- | --- |
| Animalia | Primates | Pitheciidae | Plecturocebus | Plecturocebus urubambensis |

Common Name: Urubamba Brown Titi
Taxonomy Classification Year: 2015
Monkey Size: 31.1 to 34 cm (12.2 to 13 in)
Skin Color(s): Brownish or grayish
Habitat: Rainforest
Diet: Omnivorous
Native Countries: Peru

Urubamba Brown Titi Distribution

Urubamba Brown Titi Characteristics
The Urubamba brown titi[1] (Plecturocebus urubambensis) is a species of Titi, a New World Monkey native to Peru.
Populations of this species were previously classified under the brown Titi (Plecturocebus brunneus). Still, a 2015 study found it to be a separate, undescribed species that also belonged to a different species group from Plecturocebus than P. brunneus (the Plecturocebus donacophilus group) and therefore described it as P. urubambensis.
Its appearance is very different from other titis, the whole body and tail are much darker, and the face is all black.
This species is not as gray as brown titis and has a variable amount of black on the head. In addition, the species does not exhibit sexual dimorphism.
The average body and head length of males are 31.1 centimeters (12.2 in), while that of females is 34 centimeters (13 in).
Their fluffy tails are longer than the length of their head and body combined. It typically has thick fur with a back and limbs that vary in color from a tan or grayish agouti, with white ear tufts and a reddish underside.

Urubamba Brown Titi Facts
This species is found east of the Tambo River and west of the Urubamba, Manú, and Madre de Dios rivers.
It was initially described as Callicebus brunneus in 1842 and transferred to the new genus Plecturocebus in 2016.
The Urubamba brown titi is a monogamous species and lives in small groups of 2-7 members, formed by the couple and their offspring.
The species is also known for the characteristic curling of its tail when groups are seated together.
In captivity, the Urubamba brown titi monkey can live over 25 years.

Cite This Page