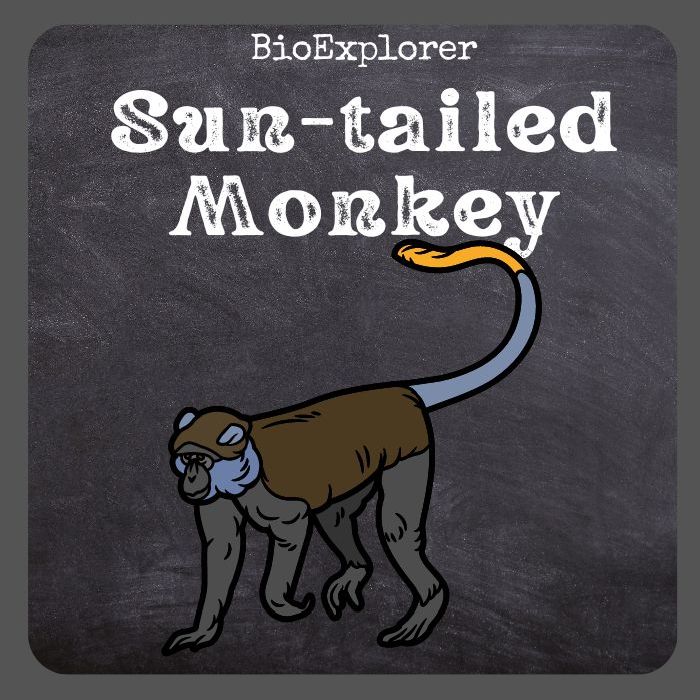 | | | | | |
| --- | --- | --- | --- | --- |
| Animalia | Primates | Cercopithecidae | Allochrocebus | Allochrocebus solatus |

Common Name: Sun-tailed Monkey
Taxonomy Classification Year: 1988
Monkey Size: 42 to 56 cm (6 to 22 in)
Skin Color(s): Gray-brown
Habitat: Forest, rainforest
Diet: Omnivorous
Native Countries: Gabon

Sun-tailed Monkey Distribution

Sun-Tailed Monkey Characteristics
The sun-tailed monkey[1] (Allocrocebus solatus) is among the most understudied primates in its habitat.
Discovered as a new species in 1988, it is classified as a guenon, a member of the Cercopithecus genus, but later moved to the Allochrocebus genus.
It is closely related to Allocrocebus ihoesti and Allocrocebus preussi as determined by chromosome analysis.
Sun-tailed monkeys have grey-brown fur on most of their bodies. Their backs are rusty brown, and their tails fade to white, then the bright orange that gave them their name.
The males' coloring is more intense than the females, and their fur pattern is more contrasting.
Males also have a distinctive white ruff much less developed than females.
Juveniles are yellowish-brown throughout and eventually develop adult coloration. However, before reaching maturity, it is less vivid and less contrasting.

Sun-Tailed Monkey Facts
Although sun-tailed monkeys primarily eat fruit, grass, and invertebrates, young sun-tailed monkeys have been hunting larger prey, including duikers, small antelope species.
These monkeys are diurnal and probably semi-terrestrial. However, their degree of earthiness has been the subject of debate among scholars, with early reports labeling them as terrestrial species and others as more arboreal.
Sun-tailed monkeys spend much more time on the ground during the dry season than during the rainy season.
Sun-tailed monkeys travel primarily in quadrupeds. They also climb and jump trees and occasionally walk on two legs.
The groups consist of one male and several females, with an average of 18 individuals. The adult sex ratio is usually five females to one male.

Cite This Page