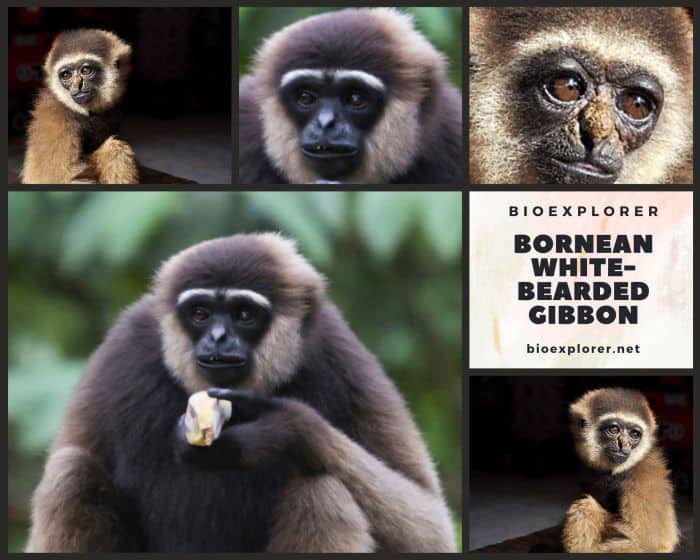 | | | | | |
| --- | --- | --- | --- | --- |
| Animalia | Primates | Hylobatidae | Hylobates | Hylobates albibarbis |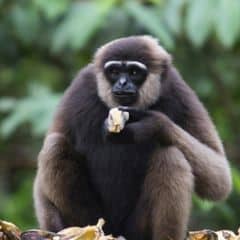 Common Names: Bornean White-bearded Gibbon, Southern Gibbon, or Bornean Agile Gibbon
Taxonomy Classification Year: 1911
Monkey Size: 40 to 50 cm (15.7 to 19.7 in)
Skin Color(s): Gray or dark brown
Habitat: Forest
Diet: Herbivorous
Native Countries: Borneo

Bornean White-bearded Gibbon Distribution

Bornean White-Bearded Gibbon Characteristics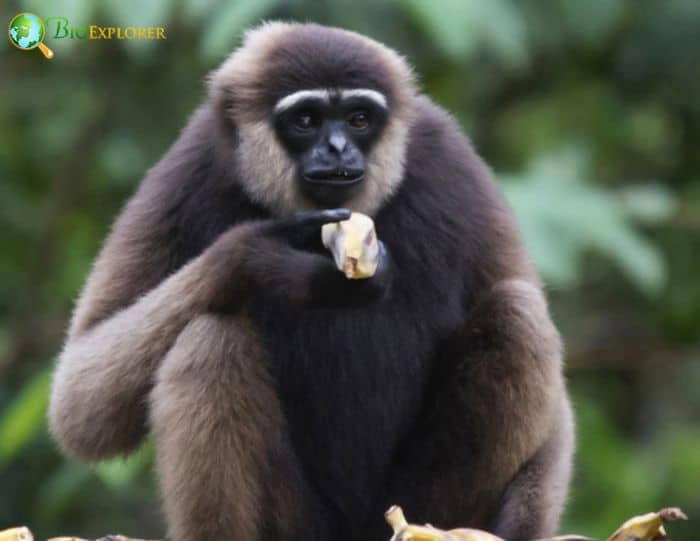 The Bornean white-bearded gibbon[3] also called the southern gibbon, or Bornean Agile Gibbon, is a species of gibbon native to southern Borneo.
Unlike other gibbon species, Bornean white-bearded gibbons do not show sexual dimorphism in coloration.
Males and females look very similar. The coat can vary, but they usually have a brown body with brown legs and arms.
Their feet and hands are black. The faces of these gibbons are typically framed by white cheeks and eyebrows, often resembling a mustache.
Their arms, extremely long to their height, allow them to swing quickly in the forest.

Bornean White-Bearded Gibbon Facts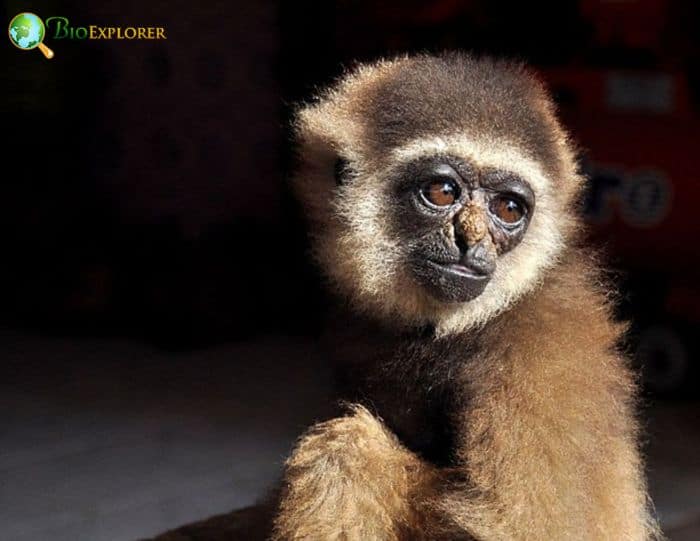 Bornean white-bearded gibbons are diurnal and arboreal species. During the day, they roam the forest for food and participate in social activities.
They reach sexual maturity around four years of age. At this point, male and female offspring are expelled from the family group to find their own mate.
Because these gibbons are socially monogamous, mating occurs primarily between the related pair. However, mating with additional partners may occasionally occur.
The Bornean white-bearded gibbons are famous for singing beautiful duets that travel long distances through the forest.
As they roam the forest, they spread the seeds of the fruits they eat into new areas, helping the forest to regenerate.

Cite This Page