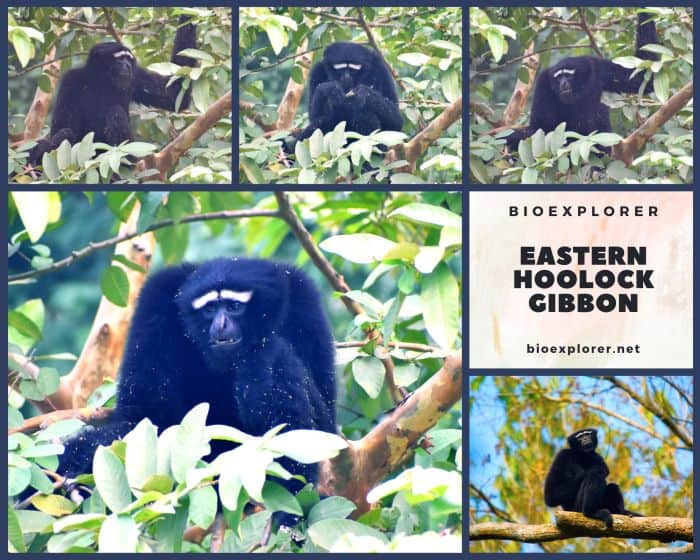 | | | | | |
| --- | --- | --- | --- | --- |
| Animalia | Primates | Hylobatidae | Hoolock | Hoolock leuconedys |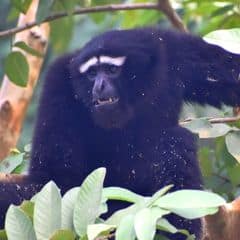 Common Name: Eastern Hoolock Gibbon
Taxonomy Classification Year: 1967
Monkey Size: 60 to 90 cm (23.6 to 35.4 in)
Skin Color(s): Black or gray-brown
Habitat: Rainforest
Diet: Omnivorous
Native Countries: China

Eastern Hoolock Gibbon Distribution

Eastern Hoolock Gibbon Characteristics
The eastern hoolock gibbon[1] is a primate of the Hylobatidae family. Eastern hoolock gibbons don't have a tail like all other monkeys but have a patch of hair in the anogenital region.
They have long arms and relatively long legs with elongated hooked hands and opposable thumbs not used for tree swinging.
The sexes are around the same size but differ significantly in coloration: males are black or blackish, with a white stripe across the eyes.
Females are lighter in color, ranging from pale and tawny to grey-brown, darker on the neck and chest.
Both sport black faces. White rings encircling the eyes and mouth of females give their face a mask-like appearance.

Eastern Hoolock Gibbon Facts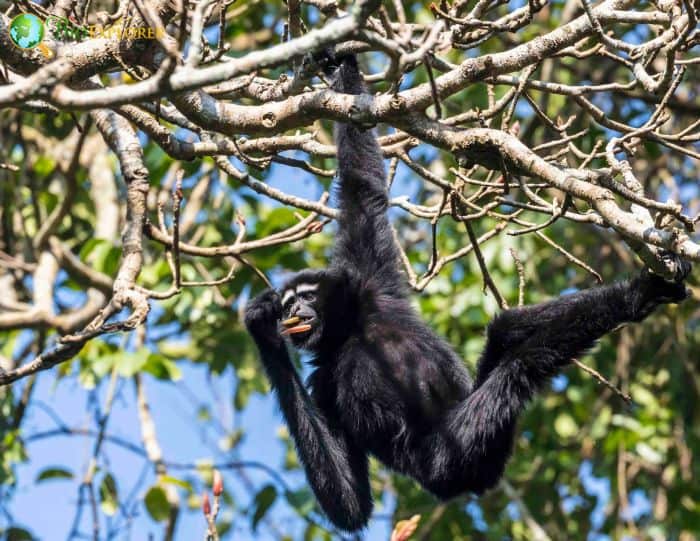 Like all gibbons, eastern hoolocks have a ball joint that forms the wrist, connecting the hand to the forearm, and an adaptation that makes branchiation (swinging from one branch to another with their arms) much easier.
Hollocks are the second largest gibbons after siamangs. They reach a height of 60-90 centimeters and weigh 6-9 kilograms.
They are usually densely clustered in trees, concentrating on the tallest trees in the canopy and tending to choose hilltop or sloping sites.
The species are more active in summer, waking up earlier than in winter, socializing more if they awake 8 to 10 hours daily, and sleeping just before nightfall.
This species' main threat is habitat loss and destruction due to human activities such as mining, logging, agriculture, and construction.

Cite This Page