The Bioexplorer Toolbar is the fastest and easiest way to get the information you want from NCBI databases (PubMed, Protein, Nucleotide, and Taxonomy) and from other biological Web resources. Currently it is supported only for the Internet Explorer browser.
It also allows you to search Google, Britannica and Amazon books directory and contains links for fast redirection to literature databases, companies websites, BLAST, ClustalW etc.
All previous searches (up to 20) are stored in the history box. You can clear the history box from the Bioexplorer Toolbar main menuby clicking "Clear Search History" option.
The Bioexplorer Toolbar is free to download and appears every time you open a new Internet Explorer window.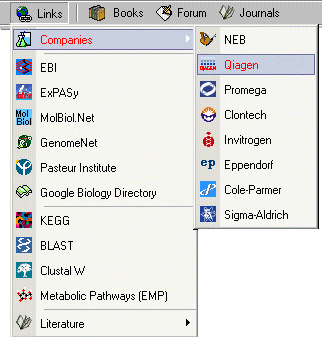 Join Our Mailing List
Subscribe to our mailing list and get biology related news and updates to your email inbox.