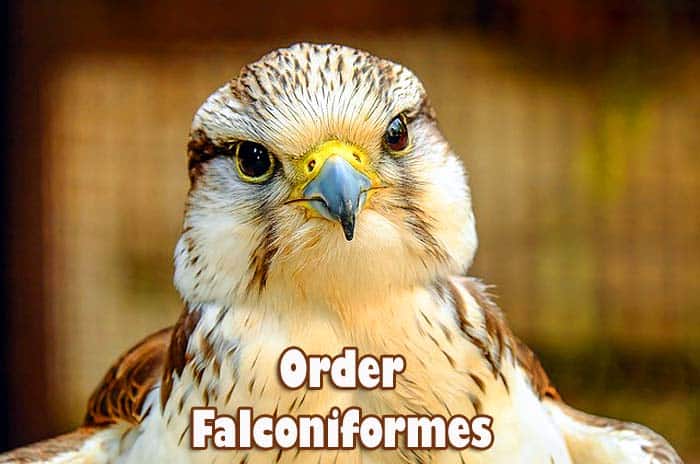 Birds in Order Falconiformes are highly efficient deadly predators. A perfect prominent example of this order is Falcons. All birds in this order have several unique characteristics which are listed below.
Order Falconiformes Characteristics
Virtually all falcons have hooked bills that help tear up the prey.
Nearly all of the species in the order have strong legs and feet with sharp talons.
Falconiformes have well-developed sight and hearing.
The birds in this order kill with their beaks, not their talons.
These birds have brown eyes (unlike eagles, who have golden eyes);
Many Falconiformes species are endangered.

Here are some typical representatives of Falconiformes:
Peregrine falcon, Falco peregrinus.
Common kestrel, Falco tinnunculus.
Black Caracas.
Crested Caracara.
Fox Kestrel, Falco alopex.
Merlin, Falco columbarius.
Laughing falcon, Herpetotheres cachinnans.
Lined forest falcon, Micrastur gilvicollis.
Spot-winged falconet, Spiziapteryx circumcincta.
Pygmy falcon, Polihierax semitorquatus.

Cite This Page
Key References
[1] – "Falconiformes – falcons, hawks, eagles, ospreys | Wildlife Journal Junior". Accessed June 12, 2019. Link.