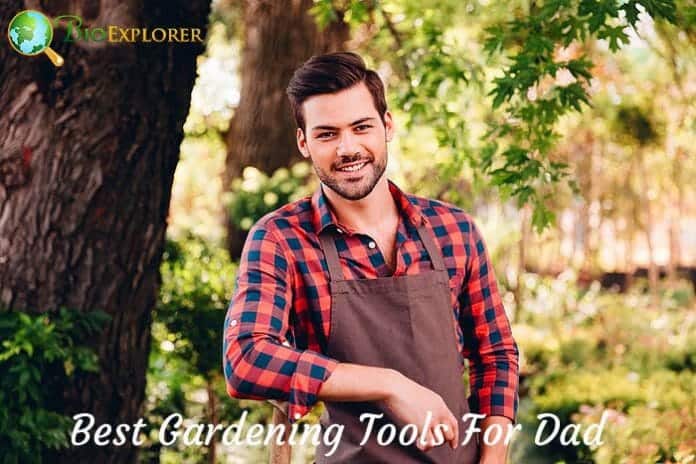 Best Gardening Tools For Dad: Choosing the best gardening gift for an important man in your life is not always easy. The market offers plenty of options, and you might feel overwhelmed when you need to make such a decision.
However, this guide should help you find the perfect gift for them without spending hours on research.
What to look for when choosing the best gardening gift for dad?
If you never purchased a gardening gift for your dad or any other male, you should know that there are some aspects you might want to consider before making such an investment!
A) Pay attention to their gardening arsenal
Most gardeners and people with this passion already have a collection of tools and accessories to use in their garden. It is wise to check out what your dad has or the person you intend to make a gift to owns so you offer them something they can really use.

B) Consider their gardening experience
Beginners in the gardening field might need more basic tools than experts in this domain. So, you want to adjust your gift options to their level of experience to follow the steps they need to take to become better at this hobby. If you give a beginner a complex gardening tool, they might not be able to use it to their full potential, which will create more frustration than help.

C) Try to evaluate their interest
Some gardeners are more interested in growing flowers than veggies or trees. Others will care about their lawn more than anything else. Considering these aspects is essential if you want to give them the correct type of gift. You can find this out by observing their gardening style and asking them what they love most about gardening.

10 Best Gardening Tools For Dad
The following gardening tools are an excellent choice for anyone who likes gardening, and you will definitely find an option!
1. TomCare Gardening kneeler
One of the best gifts you can make to your dad or any other important man in your life who likes gardening is this very functional chair.
This kneeler is not only comfortable, but it also has a set of features that all gardeners will love. You can fold it and bring it with you to any part of your garden, making it a very functional item.
You can choose this kneeler in three different colors. This allows you to give a gift that matches the rest of their gardening equipment as well.
The metal frame makes this kneeler very resistant. It is suitable for men of all ages, and it is very sturdy by its construction. At the same time, it is very comfortable, thanks to the resistant mesh used on its surface.
This kneeler comes with two handy tool pouches. It can easily be used to hold all the equipment you need for your gardening tasks. You can remove each pouch according to how you want to use this item.
Another feature that increases the functionality of this product is the fact that you can use it as a kneeler or as a stool, and it will be just as comfortable. When used as a kneeler, it will protect your knees during all the gardening tasks.
Even though this item can hold up to 330 lbs in both the kneeler and stool version, it is also lightweight enough to carry it around the garden.
Even if this is one of the best gifts for men, it would be a great gift for a passionate woman about gardening.
Pros
You will appreciate the resistance of this item so you can consider it to be a long-term investment which makes it a perfect gift.
You can convert this item from a kneeler to a stool makes it a multipurpose product that anyone would love.
This product can hold up to 330 lbs, making it lightweight even more critical for the person using it.
Any man who loves gardening will appreciate this product, but it is a great choice for women. Being a unisex product, this item becomes even more functional.
You can choose from three different colors to match the rest of the gardening equipment the user might have.
Cons
The cushion on this kneeler might be too firm for some users, which can reduce comfort.
This is not a waterproof product, so you might not use it properly on the humid ground, limiting its functionality.
Check Price at Amazon

2. 10-Piece Gardening Tool Set
Any gardening enthusiast would love to have this ten-piece set to use on their plants. It contains everything one needs to take care of all gardening tasks with no struggle!
This is a complete set with all a gardener would need to create a beautiful garden. It comes with ten different tools, organized in pouches, and a stool to sit on. The functionality of this product will impress anyone who wants to work in the garden.
Besides the functionality of this product, you will also find it a very comfortable chair and a highly resistant one. It is made of an aluminum frame to be lightweight, which makes it easier to carry around in the garden.
Inside this gardening kit, you can find all types of tools such as one trowel, one transplanter, one cultivator, one weeding fork, one weeder, and a seat with a comfortable backrest and a removable tote with a reliable zipper. Any gardener will be happy to receive this set regardless of their gardening experience. It is ideal for both beginners and experts.
A great feature of this seating set is that it is foldable. So, the user will be able to carry it around the garden as they please, but they will also store it with no hassle.
Unfortunately, you will not choose this set in different colors. Still, the green shade it comes in will match perfectly in any garden. Plus, thanks to this universal color, you can count on the fact that the user of this set will absolutely love its look!
Pros
It contains the essential tools a gardener needs and a comfortable seat with a backrest to be sure that you won't fail with this gift.
The material is both resistant and comfortable, so this should last a long time which makes it an even better gift.
You can fold it, which makes it easy to store and carry around for the user.
You can use the pouches to store all types of tools as you are working in your yard, making this multifunctional.
This set comes in a lovely shade of green that will match all tastes and backgrounds, so you can be sure the receiver of this gift will love it.
Cons
This set doesn't come in different colors, but the universal shade of green it has might be just what a gardener needs.
Might not be as stable as some user expect it.
Check Price at Amazon

3. BNCHI Gardening Tools Set, 13 Pieces Stainless Steel
BNCHI offers an excellent gardening toolset for men who love gardening. It will be highly appreciated if you choose it as a gift for a special man in your life.
You will appreciate that the case of this set is made of an eco-friendly type of plastic. So, if you care about this aspect, it is a great advantage.
This kit has a molded box with a designed space for every tool you might need in the garden. This allows the user to use the tools with no hassle and store them properly.
You can choose between seven color combinations, so this set will match the rest of the gardening equipment. If you choose this as a gift for a loved one, you can go for their favorite color.
Inside the box, you will find 13 different gardening tools that you can use as you see fit. This set comes with shovels, rakes, rope, secateurs, irritation bottle, and weeding knife. You can find all you need to take care of the most essential gardening tasks.
The entire set is built with an ergonomic design which makes it easy to carry as the user wants. It is ideal for men who work a lot in their garden.
Each tool is made from resistant stainless steel that you can count on as rust-free and highly sturdy.
Pros
Complete gardening set for anyone who loves gardening, but thanks to its masculine design, it would be a perfect gift for dads and men in general.
Different colors to choose from according to your preferences or the ones of the user of this kit.
All the tools are made of resistant stainless steel material, so you will not have to worry about rust.
The kit comes with a complete set of tools so you can give it to someone who is just starting their gardening journey.
This kit makes storing gardening tools easier, so nothing gets lost, which is a great advantage for any gardener.
Cons
Some tools might not be strong enough to cut thicker plants which can be a disadvantage.
Not the best gardening tool set for experts as it might not contain everything they need but definitely beneficial nevertheless.
Check Price at Amazon

4. EZ Kut Heavy Duty Tree Pruner
Any gardener needs a tree pruner, which could be a very useful gift for your dad, brother, uncle, or any other man who likes to take care of his garden and yard.
This tree pruner is ideal for any type of cutting and clipping in the garden, and it is a tool men love to have handy. It will cut even the thicker branches with little effort, and the garden will look great if you use this tool regularly.
You will love that this tree pruner doesn't require so much force and can be used successfully even by beginners. So, if you want to purchase this for someone who doesn't have a lot of force, it might be the best choice.
This tool is made of a sturdy metal that you can count on for the most challenging jobs in the garden.
You can use this pruner to cut branches up to 3.5 inches in diameter, and you can use it to reach branches that are 10 feet higher.
The brand that offers this product comes with a respectable history as they are on the market since 1988.so, whoever will receive this gift will know relatively fast that it is a high-quality product they can count on.
Pros
Easy to use the tool in the garden, even for beginners, so it is the perfect gift for any gardener.
This tree pruner can help you reach higher branches without using a ladder.
It is easy to use it as it doesn't require much physical force, so you can make gardening tasks more accessible by using this pruner.
The material of this tool is resistant, so you will be able to count on it for a long time if it is used properly.
The steel blade will not stick to the tree, and it will be easy to clean, which is why low maintenance is an essential benefit of this tool.
Cons
The blade of this tree pruner might need to be sharpened often.
Some users might find this tree pruner too heavy to use comfortably.
Check Price at Amazon

5. Magnetic Tool Pickup LED Light
If you want to offer your dad, grandpa, uncle, or any other man into gardening a modern tool, this magnetic pickup with LED light might be just what they need.
This magnetic tool helps you find objects you can't see with your eyes as it has an intense LED light, so you can use it in dark or low light conditions.
It is great for picking tools from inaccessible gardening areas too. If you drop your metal tool in a corner where you can't easily reach it, this magnetic tool is going to come in very handy.
The telescopic neck is 360 degrees one, so it will reach and illuminate everywhere you need it to.
This is also a multipurpose product. The man you decide to offer this gift will most likely use it in other conditions besides gardening. They can use it to find a lost tool on a construction site or simply in their home.
This tool works on batteries, and it has an on/off button you will find easy to use whenever you need to retrieve a lost metal piece. It is essential not to leave the magnetic tool on "on" unless you use it to drain the battery.
Pros
This is an innovative gift for a person who seems to have all the tools they need for gardening.
It is resistant and highly efficient with its 360 degrees rotation head and LED light.
You can use it in other situations, not just gardening, which increases the functionality of the product significantly.
The batteries will last a long time as long as you don't forget to turn this tool off when you are not using it.
Perfect for finding any tool you might lose in the bushes.
Cons
The magnet might not be strong enough to pick up all metals.
There is only one light option.
Check Price at Amazon

6. HORUSDY Magnetic Wristband
An excellent gift for a man passionate about gardening could be this wristband. But the significant aspect of this band is that it can be used in various situations as well.
This magnetic band can be used to hold different metal objects you might need in the garden or as you work on a construction project, such as bolts, screws or bobby pins, and more.
Using this magnetic band, you can save a lot of time, and you will be able to bring more items you need with you. It is ideal for men who love to complete projects around the house.
If you wear this wristband, you will save both time and energy as you will not have to go back and forth picking the tools you need to work with.
As far as the material goes, the band is made of durable polyester material, empowered with ten magnets that will keep your metal items tied on it.
It is one of the best gifts you can offer to men who love to take care of their garden or get involved in construction projects.
Pros
Original gift for men so you can impress the man in your life on a special occasion.
The size is adjustable, so it will fit any user comfortably.
Made to last thanks to the polyester material and the magnets incorporated in it, which increase the efficiency of this wristband.
Multipurpose gift as the user of this band can wear it during any type of projects and find it useful.
It has a weight of only 3.5 ounces, so it will not feel too heavy on the wrist.
Cons
Even if the band is easy to adjust, it might not fit smaller wrists, so in this case, you will have to place it closer to the elbow or where the arm is thicker.
There are not different colors to choose from.
Check Price at Amazon

7. Oakenleaf 3 Piece Garden
Another great gift for every gardener is this set of three pieces. This set is perfect for both men and women, but it will most likely be more appreciated by men as they are used for harder work.
This kit has all you need for planting everything you want in your garden. It comes with three tools made of stainless-steel metal and timber handle. The user of this kit will find every tool very comfortable to use, thanks to its ergonomic design.
You can use it with confidence as it will resist rocks., roots, and tough soil with no problem. This gift is ideal for all types of gardeners, from beginners to experts.
Each tool comes with a leather strap for easy storage. The person who receives this kit will find it easy to hang it everywhere they want without hassle.
Inside the package, you will find a hand fork, a hand trowel as well as a hand multi-tool spade. These tools come in a resistant cardboard box that you can use to store the tools or wrap them in a great gift.
This gift is all a gardener needs to cover the most essential tasks in the yard. They can use them to plant what they want to have in their garden and maintain the state of their plants.
Even if these tools don't come in different colors, the timber handles will match any preferences. So, you will not have to worry about not giving your loved one a set in a color they like.
Pros
Ergonomic design so everyone can use this set comfortably which makes it one of the best gifts.
It includes three essential tools suitable for any type of gardener regardless of their experience level.
Resistant cardboard box which helps you store the tools as well and makes for an excellent gift wrapping.
Grandma Award product which increases the reliability of each user as they start making the best of this kit in their garden.
Strings attached to each tool so you can store them easily and increase their functionality.
Cons
There is only one color available.
The set contains only three pieces which might not be enough for experienced gardeners.
Check Price at Amazon

8. Leweio Lawn Aerator Shoes
These shoes are perfect for all men who like to spend time in their garden, and they can be highly efficient.
These shows will help to aerate the lawn by simply walking on it, making them a great gift even for people who like to have a good-looking lawn.
You can also find replacement spikes for these shoes, which is comforting as you will not have to invest in a new pair when the spikes get damaged.
These shoes are one size that fits all feet. The fact that they are easy to adjust helps you give them to whoever you want to surprise, without worrying about finding the best size. At the same time, this feature makes the shows easy to be used by different members of the same family.
The sole of these shoes is very resistant, so you will not have to be worried about damaging them. Considering that no one will use these shoes unless they want to aerate the lawn, they can last a reasonably long time.
By wearing these shoes, you save money that you would spend on a lawnmower and time since all you have to do to make your lawn look great is walking on it.
They come in a combination of brown and black to match all types of equipment, and they will not get dirty easier either.
Pros
Universal size so you can make this gift to whoever you want without worrying about this aspect.
You can replace the spikes, and if you want to offer these shoes as a gift, you can include a set of extra spikes as well.
Universal color that is resistant to dirt and easy to match with other equipment pieces.
Resistant material so they can be used for a long time, which makes them a great investment.
They have a simple yet pleasant design.
Cons
You can't find them in different colors, which can be a downside for some users.
They are not waterproof, so they shouldn't be used in humid conditions.
Check Price at Amazon

9. Scotts Outdoor Power Tools
If you are looking for a functional tool to offer as a gift to a gardener or someone passionate about this domain, this trimmer is a great option to consider.
You can find this in two versions: a shrub shear and a shrub shear and pole extension, making it even easier to use. Your dad or gardener friend will absolutely love this, and you can even purchase it yourself.
This power tool allows you to trim your grass easily and with no hassle as it functions on a built-in battery. Charging this trimmer shouldn't be a problem, and you will find it very useful in your yard.
A significant aspect of this tool is that it is cordless. So it is a lot easier to use in all the corners of the garden without worrying about having access to an outlet.
The cutting head is adjustable, so it can be used to cut the grass just the way you want it without having to go twice over the same area. This feature increases the functionality of the trimmer and saves time.
The handle is cushioned, so no one who uses this trimmer will experience any types of issues. You can count on the fact that it is not just efficient but also very comfortable.
Pros
Adjustable cutting head to fit more preferences that a user might have and cut different types of grass and weeds easier.
This trimmer is cordless making it very easy to use and very efficient as you don't have to worry about dragging a cable around.
It is fast and easy to charge the battery, and it lasts a decent amount of time until it will need a new recharging session.
You can count on the sharpness of the blade as well as the precision with which it cuts the grass, which every gardener will love.
It is easy to use even by beginners and saves money spent on the maintenance of the garden.
Cons
The blades might need to be sharpened often to keep cutting properly.
If you use this trimmer on thicker weeds, the battery will consume faster.
Check Price at Amazon

10. BLACK+DECKER Leaf Blower & Leaf Vacuum
The last but not the least gift idea for men you might want to consider comes from Black+Decker.
This blower is electric and can be used in any yard or garden to clean it and make it look just as you want it. It is one of the best deals for men who like to take care of their garden.
Besides being a leaf blower, this tool is also a mulcher. A vacuum and the disposable bag make removing leaves very easy and pleasant.
This vacuum is multipurpose as it can be used to clean not just yards, gardens but also decks and patios and sidewalks, and other areas. So, the person you offer this as a gift will find it very useful in various conditions.
The speed of this leaf flower is 250 mph, so the area will be cleaned in minutes. You can offer it to any man with a yard to take care of.
This power tool is great to use by everyone, not just gardeners, as it is very efficient to have even in a simple yard.
Pros
Three tools in one which means that whoever gets this tool can definitely make the investment worth.
Ideal for any types of yards, decks, patios, and other open areas as it is highly functional.
The disposable bag makes cleaning the yard a lot easier for everyone using this blower.
It has an impressive speed of 250 mph which is better than other leaf blowers and helps clean the surface a lot faster.
The design of this blower is simple, and it is effortless to use by everyone, even beginners.
Cons
It is louder than other similar products, which might be disturbing for some users.
The cord makes it limited in usage since you will need to connect it to an outlet every time you use it.
Check Price at Amazon

When you choose the best gift for dad or for any other man in your life who likes gardening, these options might be a lifesaver. However, you will have to think from their perspective and try to guess what they would like to receive. This means that you might have to pay attention to the rest of their gardening tools, so you don't get them something they already have. Choosing a product from this list will definitely bring a smile to their face!

What's your favorite gardening tool for dad? Comment below.