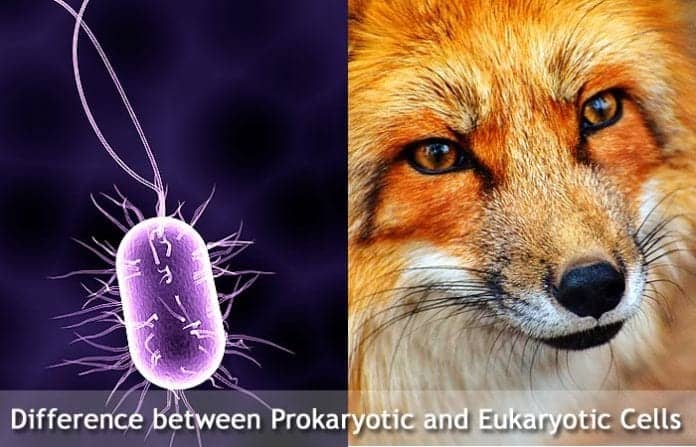 difference between prokaryotic and eukaryotic cells
. The distinction between prokaryotes and eukaryotes is considered to be one of the most important variations among groups of organisms.
What is a Prokaryotic cell?
Prokaryotes are single cell organisms (unicellular) which do not contain organelles or any internal membrane structures. That means that they have a single chromosome and no nucleus but instead they have nucleoid (a circular container that has double-stranded DNA). These organisms belong to domain Prokarya.
What is a Eukaryotic cell?
Eukaryotes are multi-cellular organisms and they contain a nucleus and other organelles encapsulated within membranes. From organization perspective, they belong a domain Eukarya.
Difference Between Prokaryotic And Eukaryotic Cells
The table below summarizes their similarities as well as their differences.
| | | |
| --- | --- | --- |
| Origin | Around 3.5 billion years ago | Around 2 billion years ago |
| Size | 0.1–5.0µm in diameter | 10-100µm in diameter |
| Cellular Organization | Most are unicellular | Most are multicellular |
| Genetic Material | The genetic material (DNA) is suspended in the nucleoid. | The genetic material (DNA)is found in the nucleus |
| Shape Of Genetic Material | DNA is circular | DNA is linear and is packed with histone proteins. |
| Number Of Chromosomes | Only one | Multiple chromosomes are present |
| Nucleus | No nucleus | Has a membrane bound nucleus |
| Plasma Membrane | Made up of peptidoglycan | Made up of phospholipids |
| Cytoplasm | Has cytoplasm | Has cytoplasm |
| Organelles | No organelles wrapped in membranes | Has organelles wrapped in membranes (e.g. mitochondria, Golgi bodies, smooth and rough ER, vacuoles, etc.) |
| Cytoskeleton | Present | None |
| Glycocalyz | Present | Only in some |
| Ribosomes | Made up of rRNA and proteins | Made up of rRNA and proteins |
| Flagella | Present | Present |
| Asexual Reproduction | Possible through binary fission | Possible through mitosis |
| Examples | Bacteria | Animals, plants, fungi, rhizarians chromoalveolates, and excavates. |